Use Dynamic Rate if you want pricing like:
1 hour = 5.00
3 hours = 10.00
7 hours = 15.00


To set a dynamic rate,
click on Tools->Settings as follows:
Enter your user password if prompted.
The Settings page will appear.
Click on "Products and Services" to bring the screen below.


Select the Usergroup name and Rent Type that you want to set Dynamic Rates to.
Click Edit.
The Edit Minutes Rate page will appear.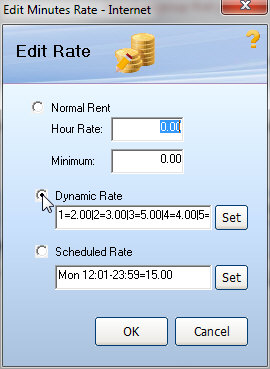 Select the "Dynamic Rate" option button and click "Set".
The Set Dynamic Rate page will appear.
From here, you can add, edit or delete your Dynamic Rates.
To add a dynamic rate, click Add.
The Add Dynamic Rate page will appear.


Enter the minutes.
Enter the rate.
Click OK.
Your newly created dynamic rate will be added to Dynamic Rate list in Set Dynamic Rate page. Click OK to save.
Note that the Minimum in Normal Rent will apply.