To create your operator/employee users, follow these step-by-step procedure:
Click on the Users tab on main application screen
Click Add User. The add user window will appear.
Fill the necessary user information fields.
Set the Usergroup field to Employee.
Click Save.
Click OK on the save status dialog that will appear.
Click the Operator/Employee Permissions menu on the upper part of the Add User window and then click Set Permissions. The permissions window will appear. Set the necessary permissions for the new operator/employee.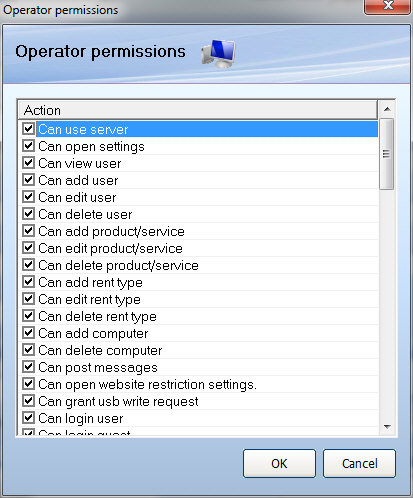 Click OK. You have now created a new operator/employee user.
You can also set an existing user as an operator/employee under Settings->Operators/Employees:
Congratulations! You've successfully installed and setted up the basic settings of Krisan Cafe. If you have any further questions, please contact us here.