Krisan Cafe
Internet Cafe, Gaming Cafe and Cyber Cafe Management Software
Latest Version 1.4.1
Build 10.28.2013
Krisan Cafe is an easy-to-use Internet Cafe, Gaming Cafe and Cyber Cafe Management Software. It will manage your desktop internet and games rentals, laptops, tablets, Xbox, and also your play stations.
NOW WITH DISKLESS / MULTI-PC SUPPORT.
Supported Operating System:

Windows XP
Windows Vista
Windows 7
Windwos 8

32 and 64 bit compatible
---
Update news:
The following features will be available on January 2014:
- Remote File Manager
- Send File (drag files to send to server or client)
- Client Program Launcher (applications and games launcher).
All new features will also be available to Free edition. : )
Some of paid edition features will now also be available to Free edition including Remote Task Manager and Clients Screenshot. : )
---
Resellers needed!!!
- 50% commission
- Earn up to $88 for every sale
- No special skills needed, just know how to install software
Apply now and start earning!
For interested applicants, please e-mail us at krisancafe@yahoo.com
---
We are giving away
25 FREE registrations!
To qualify, download, install and use Krisan Cafe Trial Edition for 20 days. After your 20-day trial is over, send us e-mail stating your cafe name and the full name of the cafe owner.
---
What's New:
v1.4.1
* Incorrectly displaying (sometimes) of Turned On/Off status has been fixed.
* Added option to switch to Free Edition when Paid Edition Trial has expired.
* Modified the message for Free Edition users.
* Minor bug fixes.
v1.4.0
* Added option to change currency symbol.
* Added option to show/hide minibill on clients.
* Diskless / Multi-PC support has been added.
* Automatic e-mail of sales report has been enhanced.
* Automatic Update feature added.
* Expense report added.
* Visits report added.
* One-click closing of clients' running applications added.
* Added the "Close running applications" in Client Options->Time Options.
* Included option to show also hidden applications in task manager.
* Bandwidth monitor added.
* Minor client-server connection issues has been fixed.

View All Changelog
---

Krisan Cafe has been scanned with virustotal.com with the following results:
(Click the link to see file scan result)
Krisan Cafe Server Setup.exe
Krisan Cafe Client - Runtime.exe
Krisan Cafe Client 7 Setup.exe
Krisan Cafe Client XP Setup.exe
KrisanCafeSetup.exe
KCSetup.exe
Setup.exe
---
"A handy cyber cafe
management software
Krisan Cafe is a comprehensive application that enables you to connect to other computers remotely, manage and organize all your clients and monitor the time spent to each computer.
With the help of Krisan Cafe you have the possibility to simplify your day-to-day tasks in your Internet cafe.
With its intuitive interface, you have the possibility to track the minutes spent to the client computers and generate invoices for each one."
by: Softpedia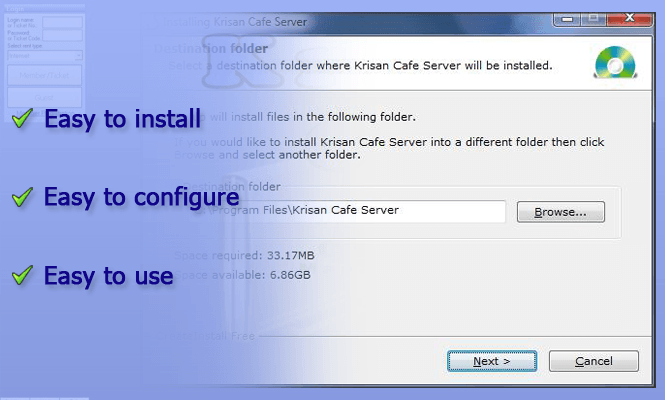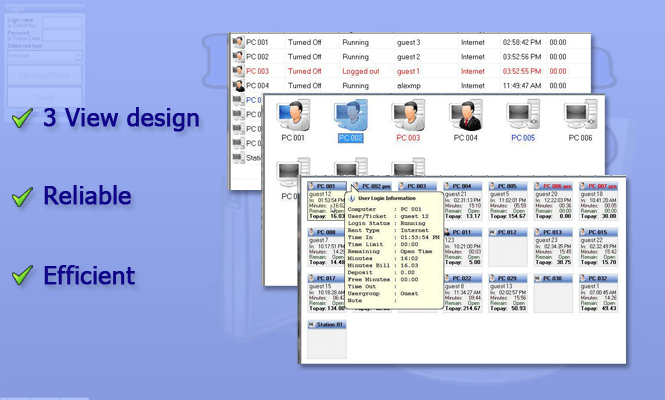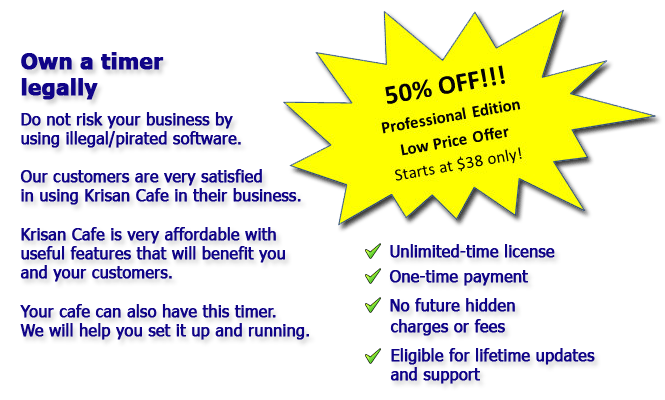 No matter how large or small your Cyber Cafe, Gaming Cafe or Internet Cafe shop is, Krisan Cafe will take in-charge and make your life easier. Get started and use Krisan Cafe with full features!
---
Time Management
Krisan Cafe handles time management in your Internet Cafe and Cyber Cafe. It records the time in, total time with the charges and displays them both on the client and server screen. With a reliable time management, there is no possibilities for mistakes to occur.
---
Flexible Computer Naming
You can add unlimited devices for rent in your Internet Cafe and Cyber Cafe shop like Xbox, playstations, tablets and any other devices.
---
Up to 500 Clients Connection
Server can connect and hold up to 500 client computers.
---
Print Monitoring
Record all printer activities and print outs in your Internet Cafe and Cyber Cafe shop. With this feature there is no possibility for operators or employees to make volume print outs for them.
---
Normal, Fixed, Scheduled, Dynamic and Custom rate
Define your pricing scheme with these flexible and wide selection of rental rates. With dynamic rate, you can set pricing like 1 Hour=1.00, 5 Hours=3.00, 9 Hours=5.00, etc. Set a fixed rate like 5 Hours=2.00. Set your prices to be effective in a specific date and time with scheduled rate.
---
Disable/Enable Over 20 Windows Functions
With Krisan Cafe you can add security to your client computers. It reduces the maintenance of your computers by restricting functions like control panel, start menu right-click, taskbar properties, taskbar right-click, desktop properties, My Computer properties, Windows hotkeys, task manager and many more. You can also limit the drive letters that are accessible in My Computer, restrict internet explorer downloads, block installers (msi) and many more.
---
Power Interruption Safe
All data is recorded locally in real-time so no need to worry. All logins will resume automatically when the server is restarted.
---
Power Conservation
Decrease your cafe's power consumption by automatically turning off or put client computers to standby/sleep mode if no user is logged in. You can wake up client computers from sleep mode remotely on server (needs extra Windows configuration).
---
Inventory
Maintain an inventory of all the items like snacks, cold drinks and even school supplies. Users can place an order from their own computer using the Krisan Cafe Client.
---
Free Hour System
Add a unique promo to your Cyber Café with this unique feature of Krisan Cafe. Automatically add free minutes to members who acquired a predefined minutes of PC rentals. Members can use their free minutes upon logging in or upon receiving of free minutes. Additionally, there's an option to enforce or prompt members for free minutes use.
---
Membership
Krisan Cafe empowers your Internet Cafe and Cyber Cafe with user group-based membership. It allows you to define numerous membership schemes, pricing and settings with each user group.
---
Rental and Products/Services Sales Report
Krisan Cafe generates detailed reports to provide you the ability to evaluate your business performance.
---
Employee/Operator Reports and Permissions
Keep a check on employees with this feature of Krisan Cafe. All cash transactions are recorded so no possibility of an operator committing undesirable actions. Also you can select which features should be accessible for employees or operators.
---
Website/Program Restriction
Krisan Cafe can block websites or applications on the client computers. You can limit the programs which can be launch and websites that can be viewed on the client computer.
---
Prepaid Tickets
Krisan Cafe gives your Internet Cafe and Cyber Cafe a ticketing feature. It allows you to generate a number of prepaid accounts with predefined balance and expiration with a single click and you can then print it. Your customers can buy tickets and only enter the two required information to the client computer in order for them to surf, game or do other task on computers.
---
Points System
Do you want to add points to members for every defined computer rentals or purchased products/services? Then this feature is for you. You can make awards to members who will reach a predefined number of points.
---
Computer Usage Report
Monitor computers that are busy and computers that are totally not used.
---
Automatic E-mail of Sales Report
Monitor your daily sales even when you are not in your shop. You can schedule to send sales report to an e-mail address daily or weekly.
---
Remote Task Manager
View and kill tasks on client computers remotely especially for games that are sometimes are hard to exit and applications that turned to "Not Responding". You and your customers can save time with Krisan Cafe's Remote Task Manager.
---
Client Screenshots
You can monitor what your customers are doing in your computers with Krisan Cafe's Screenshots feature. Click Screenshots and the thumbnails of all the turned on computers will be displayed. You can enlarge the thumbnails with your default image viewer.
---
Bandwidth Monitor
Take a quick grasp of which of your computers or users are consuming low, high or all of your internet bandwidth.
---
One-Click Closing of All Client's Running Programs
Instantly close all running programs on clients with this handy feature. No more forcing to log off client computers just only to close 20 to 100(and up) open programs. With just one click, all running programs will be closed. You can also set to automatically close all running programs on log out or paid.
---
Client Screen Customization
With Krisan Cafe, you can remotely set all your client computers' desktop wallpaper, screensaver, and lock screen background. You can set multiple images and have them switching automatically. You can set the seconds before the next image switch and have it randomized or in order.
---
Client Self-Timer
Krisan Cafe Client has its own timer that gets activated when the server is down. It will save you a lot when something goes wrong with your server computer. The time client stations detected that the server is down, its self timer starts running and the user login time continues. When the server is restarted, all user time information will be updated with the one on the client stations.
---
File Cleaning Maintenance
Clean your client computers from users' data like documents, mp3's, videos, and other user downloads. Specify the folders in the File Cleaning Maintenance settings and their contents will be deleted on the first startup of Krisan Cafe Client in a day.
---
Customizable Quick Access buttons
Add only the functions you want for quick access. No need to hit menus and browse for functions you want, just single-click buttons.
---
Automatic Updates
With Krisan Cafe, there is no hassle in updating the server and client program with important fixes and major updates. Depending on your preferred settings, it can automatically download and install the available updates.
---
Not yet convinced? Get started and use Krisan Cafe with full features!